(Details)

Line 1:
Line 1:
 
+

[[File:WTF-17.jpg|thumb|300px|V7670 in German markings<ref>[http://www.vintagewings.ca/VintageNews/Stories/tabid/116/articleType/ArticleView/articleId/394/language/en-CA/WTF.aspx Vintage Wings]</ref>]]'''V7670''' was a Hawker Hurricane Mk I.

−

'''V7670''' was a Hawker Hurricane Mk I.

 
 
+
 
+

==History==

 
+

Built with metal skinned wings by Hawker Aircraft, as part of a batch from Langley and Brooklands,<ref name="BMAS p161">{{British Military Aircraft Serials}} Page 161</ref> by late February 1941 V7670 was operating with No 261 Squadron based on Malta.

 
+
 
+

V7670 was used by Flying Officer John Payne to claim a Bf 110 damaged on 25 February, together with a Bf 110 probably destroyed and a Dornier Do 215 destroyed on 5 March. Shortly afterwards, it was captured in North Africa, and repainted with Luftwaffe insignia

 
+
 
+

After the aircraft was recaptured in December 1942, it was passed to No 208 Squadron.<ref name="Flypast Nov 2013 p43">{{Flypast Magazine}} November 2013 page 43</ref>

 
+
 
+

==References==

 
+

<references/>

 

[[Category:British Aircraft]]

 

[[Category:British Aircraft]]

 

[[Category:Hawker Hurricane]]

 

[[Category:Hawker Hurricane]]
---
Revision as of 22:01, 3 December 2013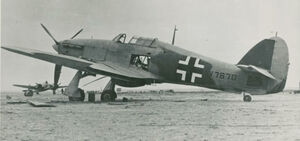 V7670 was a Hawker Hurricane Mk I.
History
Built with metal skinned wings by Hawker Aircraft, as part of a batch from Langley and Brooklands,[2] by late February 1941 V7670 was operating with No 261 Squadron based on Malta.
V7670 was used by Flying Officer John Payne to claim a Bf 110 damaged on 25 February, together with a Bf 110 probably destroyed and a Dornier Do 215 destroyed on 5 March. Shortly afterwards, it was captured in North Africa, and repainted with Luftwaffe insignia
After the aircraft was recaptured in December 1942, it was passed to No 208 Squadron.[3]
References
↑ Robertson, Bruce. British Military Aircraft Serials 1912-1966. Ian Allen Ltd. 1967 Page 161
↑ Flypast Magazine. Key Publishing Ltd. November 2013 page 43