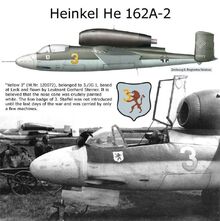 Operated by 3./JG1 as "Yellow 3",[1] Werk Nr 120072 was captured at Leck, and designated Air Min 61.
This aircraft crashed at Farnborough on 9 Nov 1945[2] while the pilot, Flt Lt Robert Alan Marks AFM, a test pilot assigned to the Aero Flight at RAE Farnborough, was displaying the aircraft to Army Staff College, Camberley. Whilst performing a slow roll the aircraft yawed violently then stalled. The pilot lost control and one fin and rudder detached. The aircraft dived and a violent pull-out was attempted but the tailplane then broke away and the aircraft crashed, killing the pilot and a Canadian soldier on the ground.[3]
Community content is available under
CC-BY-SA
unless otherwise noted.